Mention Deb's Journey and receive 15% off
Deb's Journey

Debbie McCarthy, AKA: AboutTownDeb, your Food, Wine & Travel gal here excited to share my Hall & Wrye journey with you.
Now that I have hit the 60 mark in my life, I have begun to show the signs of aging. These same signs also show that I'm living life to the fullest and are a reminder each day is a gift.
I am grateful to say that each day is an amazing gift, where I am able to be out-and-about, connecting family, friends, and community with lots of smiles, and stories to share as AboutTownDeb.
My world of connecting via social media has become a filtered world of selfies that I hate to admit are filtered about 80 percent of the time. I want to be able to get to a place where I am the best version of me and love the way I look without filters.
So, when Hall & Wrye contacted me to share my journey of taking care of my skin and begin a healthy lifestyle, I said yes! Although we are amazing just the way we are, self-care only leads to the best version of ourselves.  With the right skin care regime and guidance from the team at Hall & Wrye, they are helping me along the way with treatments like Botox and lasers, to help with those dark spots from my beach days.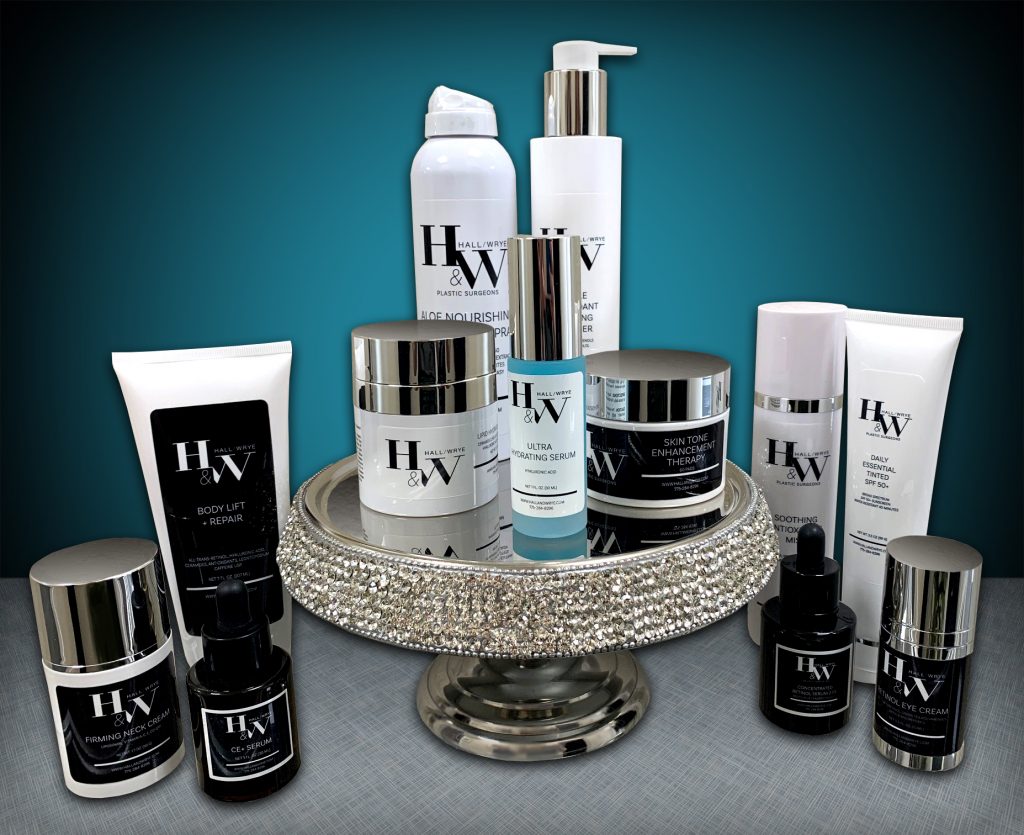 Hall and Wrye Gentle Antioxidant Soothing Cleanser
Gently cleanses and nourishes the skin
Contains Green Tea Polyphenols, Cucumber Extract, Panthenol, Yucca Extract, Vitamin C

Benefit(s):

Removes environmental pollutants and excess oil
Provides hydration
Ultra calming and soothing solution
Suitable for all skin types – including sensitive
PH Balanced
Gluten, paraben, soap and alcohol free
Hypo-allergenic fragrance, non-comedogenic
Hall and Wrye Soothing Antioxidant Mist
Benefits of alcohol-free witch hazel made by steam extraction (like a tea), unlike the type sold at drugstores
Rich in soothing tannins, like a tea bag used to reduce puffiness around the eyes
Lavender extract used is a steam extracted, triple distilled and purified cut of lavender without reports of irritation or sensitivity

Benefits(s):

Soothe skin irritations
Refresh dull, tired skin
Support post procedure healing
Use after cleansing or shaving
Reset make-up
Hall and Wrye CE+ Serum
A high-potency vitamin C serum
Supports the skin's microbiome
Vitamin E – ultra calming antioxidant nourishes, soothes and protects skin from damaging free radicals
Camellia Sinensis Green Tea Polyphenols are the most potent antioxidant known, quenching more reactive oxygen species (ROS) than any other antioxidant to provide calming, nourishing and protective skin benefits

Benefit(s):

Daily collagen support and age defense
Visible anti-aging benefits
Brightening powerhouse to address dullness and discoloration
Hall and Wrye Lipid Hydration Cream
Lipids, Ceramides provide essential nourishment to help replenish the upper layers of the skin barrier to visibly improve elasticity and texture
Tetrapeptide support collagen and skin matrix improving the skin's appearance

Benefit(s):

Hyaluronic Acid locks moisture into the skin
Enhances the skin barrier, support healthy collagen production, improving the look of fine lines and wrinkles
Green Tea Polyphenols provide antioxidant benefits while calming the skin
Loads of nutrients allowing again cells to appear young while promoting skin firmness & elasticity
Hall and Wrye Concentrated Retinol 2.5X
Retinol restores the endogenous retinoid storage pools that are rapidly stripped by scavengers
Helps to preserve the barrier function

Benefit(s):

Green Tea provides the broadest antioxidant benefits while soothing and calming the skin
Caffeine USP enhances overall antioxidant activity, helps diminish the appearance of redness
Active botanical protects the skin from environmental stressors and helps minimize the look of discoloration and age spots
Diminishes the appearance of fine lines and wrinkles and assists in the achievement of smoother, firmer and more evenly toned skin
Hall and Wrye Retinol Eye Cream
Therapeutic system consisting of lipopeptides, powerful antioxidant systems, brightening agents, and chelators contains synergistic tissue restructuring agents
Its active agents have been reported to decrease capillary permeability, increase lymphatic drainage, and stimulate bilirubin and iron-complex removal

Benefit(s):

Reduces the appearance of fine lines and wrinkles, dark circles and puffiness
Helps increase firmness and elasticity
Calms and soothes skin, while quenching free radicals
Diminishes the appearance of bruising and discoloration
Hall and Wrye Firming Neck Cream
Age defying qualities helps to support the skin barrier and to enhance its resistance to external factors
Assists in the fight against sagging skin, support collagen to firm and lift skin.

Benefit(s):

Helps to smooth and tighten skin and support a more collagen rich appearance
Emollients restore elasticity and reduce crepey skin
Powerful antioxidants calm the skin, protect from free radical damage
Hall and Wrye Skin Tone Enhancement Therapy
Hall and Wrye Ultra Hydrating Serum
Hyaluronic acid is a powerful hydrator naturally found in skin, holds 1000x its weight in water
Multiple antioxidants have moisturizing benefits and guard against free radicals
Palmitoyl Tripeptide supports TGF-beta 1 which helps improve elasticity and firmness, resulting in a more collagen-rich skin appearance
Gluten, fragrance and paraben-free -suitable for all skin types

Benefit(s):

Visible and tactile firmness on face
Improvement in wrinkles and fine lines
Smoothness on face
Conditions the skin to reduce excess oil
Maintain a healthy skin barrier function
Hall and Wrye Daily Essential Tinted SPF50+ Sunscreen
For very sensitive and post procedure skin types
Zinc Oxide 11% – 100% mineral active, broad-spectrum UVA/UVB protection from UV rays

Benefit(s):

Hyaluronic acid is hydrating, water-binding, humectant which dorms a protective barrier on skins surface to lock moisture in and plump the look of fine lines and wrinkles
Mineral pigment to conceal minor imperfections while providing broad spectrum UVA/UVB protection
Non-comedogenic oil, fragrance and paraben free
Hall and Wrye Body Lift + Repair
This redefining body lotion features all-trans-retinol in a power delivery system for maximum penetration and age defying results
Specially formulated to help lift and tighten skin, improve skin texture and tone and provide intense hydration
Fortified with powerful antioxidants to soothe and protect skin from free radical damage

Benefit(s):

The all-trans-retinol support the skins barrier function promoting a collagen-rich appearance
Helps to visibly reduce fine lines and wrinkles
Improves skin texture and tone
Helps to plump skin and diminish signs of aging
Deb's Treatment Plan
Skin Re-Surfacing Laser Treatments
Genius micro needling: The Genius™ Intelligent Micro needling / radio frequency system uses state-of-the-art skin surface analysis and micro needling technology to add firmness to your neck and jawline as well as helping even out the effects of scarring from injury or acne.
LaseMD: LaseMD™ uses the proven results of laser-based skin resurfacing technology to produce visibly improved skin tone and wrinkle reduction without extended healing, or recovery times. With LaseMD™, you can achieve noticeably reduced fine lines and uneven skin tone, and texture with limited treatment sessions making it the perfect solution for someone with busy schedule.
Genius / LaseMD Combo treatment = 6-8 weeks apart.
Genius / LaseMD to full face / neck / décolletage / and arms:  3-4 treatments at least.
Injectables
Botox is a purified protein administered to temporarily improve the appearance of moderate to severe frown lines between the brows, forehead lines, vertical lines, and moderate to severe crow's feet.
Dermal fillers like Juvéderm and Restylane are some of the most requested anti-aging treatments, due to their ease of use and their ability to create a variety of improvements. Dermal fillers help to smooth facial lines and replenish the appearance of lost volume and fullness in the face.
Juvéderm Voluma:  To chin and jaw line.
Juvéderm Vollure:  With cannula to pre jowl sulcus.
Restylane Silk: For very fine lines around mouth.
Revance RHA3: For nasal labial folds.
Juvéderm Vollure: For marionette lines.
Aesthetician Services
Dermaplaning is a simple and safe procedure for exfoliating and ridding the skin of fine vellus hair (peach fuzz). This is a great treatment to offer for deeper exfoliation and is often combined with other laser treatments. Every 2-4 weeks.
Micropeel is a skin care treatment that stimulates cell turnover through the application of an acid. This procedure addresses acne prone, or hyperpigmented skin. Every 6 weeks.
Adult Facials are intended for those who have healthy skin and are looking to maintain it, or someone who is slowly easing into treatments.  This facial addresses small imperfections while building radiant, healthy skin. Every 6 weeks.